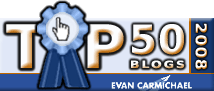 Here is what's cool as ever. It's when you're just going on along and doing your thang in life and along comes an unexpected treat. You never asked for it, better yet you never expected it, it just happened.
Hint, it comes from living a life well lived and not focusing on the rewards of a life well lived/
Have you ever had that happen?  
I believe it's just the universe letting you know you're on the right path and engaging in the right activities.
Well that is what happened to me yesterday. Allow me to explain.
I got an email in my in box yesterday and discounted it as spam, deleted it and went on my merry way. I checked my stats and low & behold my visitor count was way up from what it normally is. I investigated and turns out the email I had deleted wasn't spam!
Here is the email in it's entirety:
Hello,

I hope you are having a great June so far! I just wanted to touch base to let you know that we've listed your blog in our list of the Top 50 Productivity Blogs of the Year – you can see the complete list at http://www.evancarmichael.com/Tools/Top-50-Productivity-Blogs-2008.htm

Congratulations and keep up the great work!

More on us: EvanCarmichael.com is the Internet's #1 resource for small business motivation and strategies. With over 270,000 monthly visitors, 2,500 contributing authors, and 48,000 pages of content no website shares more profiles of famous entrepreneurs and inspires more small business owners than EvanCarmichael.com.

If you like the article, feel free to submit it to Digg, StumbleUpon, etc.

If you have any questions, just let me know.

Sincerely,

Evan Carmichael
Now embarrassingly, enough I've never heard of Evan Carmichael before yesterday and I'm not sure why because his site has a lot of valuable info on it. However Empowerment 4 Life in the top 50? There's thousands of blogs that could have been chosen!
Regardless what does any of this have to do with you and your business? Lots.
When you're driving from L.A. to New York there isn't a whole lot to see in the way of big city lights. (Sorry if you're reading this in Arkansas, no offense) In between those two destinations you just keep
asking, "am I there yet?"
What you have to keep in mind is that along the line if you will just enjoy the process and enjoy the ride you will meet some really cool people and stop at some neat little spots along the way. (Ok, the Grand Canyon is a big spot but there is only one of those lol)
I hope you realize I don't do this blog because of any other reason than I just love giving back what has been given to me. The only way to get more water into a glass that is already full is to dump it out. I just choose to dump it out into your glass if you so choose to except.
It's nice to know that on my way to New York someone stopped me to tell me they really liked my ride and that was cool enough for me. I was just doing my thang spare time part time anyway.
I don't write to make search engines happy although I probably should. I don't write to optimize and make sure that Google ranks me  the highest ever in a certain term so that a gazillion people read this.
I write because  I know that exactly who is supposed to be reading this in the moment will be. I write from the heart and that doesn't always mean I use proper grammar but I would hope you share this blog with someone else if you believe they would get as much value as you have.
I'm enjoying my ride and so you should as well.
Are you enjoying your ride in your network marketing or home business? On your journey you never know who lives you're going to touch. Focus on a life well lived and you will receive the gifts of a life well lived.